Below is a sample of some of Civic Collaboration's recent projects.
Project Name:
Image
Project Description:
CodeSMTX
Civic Collaboration worked with the City of San Marcos during CodeSMTX, the process to update the City's land development code. Engagement efforts included outreach and communication efforts to ensure broad awareness and involvement, as well as numerous neighborhood planning workshops across the city. Civic Collaboration also supported the facilitation of meetings of the community "Think Tank" and workshops with the Planning Commission and City Council.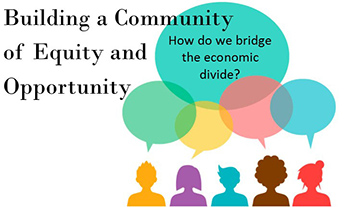 Expanding Opportunity
Civic Collaboration coordinated a year-long planning effort and led facilitation for a Community Advancement Network regional summit which convened over 225 residents to explore how to expand opportunity and address issues related to the economic divide in Central Texas. Civic Collaboration then partnered with CAN, Leadership Austin and Interfaith Action of Central Texas to develop a local discussion guide and convene community forums for residents to discuss ways to increase equity and opportunity for all Austinites.

Urban Trail Master Plan
Civic Collaboration spearheaded public engagement for the City of Austin's Urban Trails & Bicycle Master Plan. Engagement efforts included a city-wide telephone survey, Intercept surveys, numerous public workshops and open house events, including a virtual online open house. Other engagement activities included a "bike rodeo" for children to learn bike safety and an educational speaking event with a nationally-known expert.

Sustainable Places Project
Develop and analyze future growth scenarios and produce development plans, economic and market analyses and strategies, and financing plans for targeted areas within these four Central Texas communities. Conducted stakeholder and issue analysis with local jurisdictions; convened and facilitated stakeholder advisory committees of elected officials, community leaders and land owners. Developed outreach messaging and materials and implemented outreach strategies; Partnered with planning team members to design and deliver large public visioning workshops to explore community values and priorities on topics such as housing, retail and commercial services, transportation, and recreation; Conducted design charrettes which included real-time feedback on future growth scenario; Conducted open house events and online engagement.

Imagine Austin
Public engagement for City's comprehensive plan, Imagine Austin. Assisted City with engagement efforts targeted at the City's business and development community; Conducted stakeholder analysis and database development of business community leaders; Designed and delivered focus group sessions with business leaders to refine messaging; Developed communication materials and engagement activities, including small group discussion forums, presentations and other meetings to obtain input and identify hot-button issues; Coordinated large public educational events bringing in subject-matter experts from other cities to discuss comprehensive plan implementation.

CodeNEXT
Public engagement effort for the City of Austin to revise the Land Development Code. Design and delivery of large-scale public meetings, targeted stakeholder outreach strategies and support of online engagement efforts. Helped develop and deploy "do it yourself" kit for community members to document character of their communities.

Cypress Creek Greenway
Conducted public engagement to investigate options for implementing the Cypress Creek Greenway, a continuous system of trails, parks and open space following Cypress Creek nearly 40 miles. The project involved business, civic and governmental leaders to provide input and guidance. Engagement efforts included social media strategies, surveys and in-person events to gather input on what kinds of the features, amenities and high-priority locations were important to people. The effort resulted in numerous resolutions of support from local governmental entities and an ongoing stakeholder-led effort to spearhead future development strategies and fundraising.

Eanes Community Dialogues
Community dialogues on student success for the Eanes School District. Engagement consultant and project facilitator for Community Dialogue Series on education issues and fostering increased student success; Facilitated steering committee planning process with group of 30 community leaders, district staff and students to design a four-week series of community dialogues on the future of education in the Eanes School District; Recruited 45 volunteers and conducted in-depth training of volunteer facilitators to lead deliberative small-group discussions and identify common ground for action; Led series of four public workshops involving parents, students, teachers and administrators to identify priorities for supporting student success in the Eanes community.